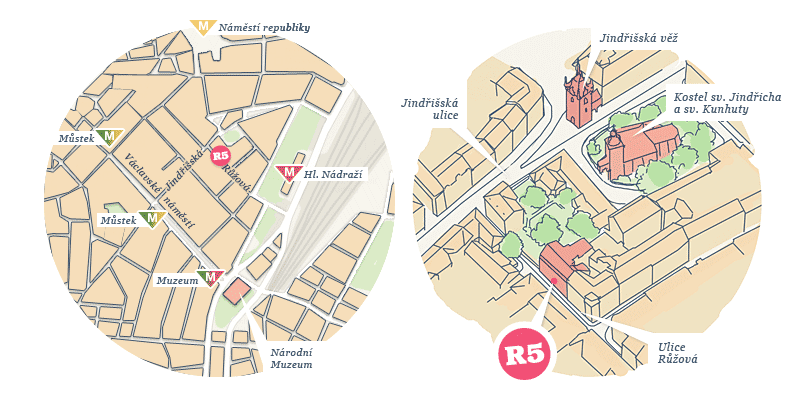 Arriving with your car
In the Prague 1 area there are blue parking zones. However, if you do not own a parking permit for this zone, you can only park in the white zones with parkings meters. The closest parking meter zones are in these streets and all of them are in the 5 minutes walking distance:
see parking options
Opletalova - 30,- Kč/hour (max 6 hours)
Politických věznů - 40 Kč/hour (max 2 hours)
Panská - 40 Kč/hour(max 2 hours)
Jidřišská - 40 Kč/hour (max 2 hours)
Senovážném náměstí - 40 Kč/hour (max 2 hours)
Hlavní nádraží parking - 40 Kč/hour
(523 parking spaces, entry from the Wilsonova street)


During weekends it is possible to park at some of these street free of charge. In the blue zones it possible to park for free only in the morning from 6 to 8.
Using the Public transport (MHD)
Metro A - Můstek or Muzeum station
Metro B - Můstek station
Metro C - Muzeum or Hlavní nádraží station
Tramvaj - Jindřišská station
Vlak - Hlavní nádraží main train station